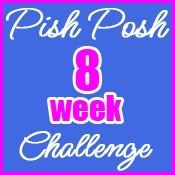 Well! Can you honestly say that in any other contest your host will flip out, fight for animal justice, and then accidentally post pics of nudists? I think not! Pish Posh is special!
oh yeah...
As you probably know, this 8 Week Challenge has been a challenge for me. I did what I said I would - stopped drinking beer, worked out harder, and stopped eating cheese. I replaced the beer and cheese with wine and exercise because I'm a flawed, flawed woman. But guess what? In the past 8 weeks I've worked out harder, cut out fats, learned some new recipes, and been inspired.
Unfortunately, while struggling to take care of my mentally disabled mother, I've also lost my career, my partner, my home, my car, and, this past weekend, and worst of all by a million degrees, lost my best friend, my kitty Symba. It was a painful, awful, sad few weeks.
Those of you that were lucky to know Symba in real life know that he was an exceptional, special being. I'm not kidding. He was a three legged angel.
Always with a good nature, always willing to share some kisses, and no matter what he encountered and survived through - including abuse, neglect, tornadoes, german sheperds, amputation, and cross-country travel, in the end the cancer took him, but his tail was wagging when he went. So he's a winner to me.
It's been a rough few weeks. Thank you for bearing with me. I just thought we were going to give up some bad habits. I didn't know my life would completely change.
I challenged each of you to replace one bad habit with one good habit. And you did! Mostly! In a kind of sorta human and wonderful way!
We have a winner!!
Brett Minor at the
Transformed Non Conformist.
Brett is such a good guy. To know him is to think fondly of him. He's a good at whatever he tries to do - a writer, a prankster, a father, a friend. He's even a preacher. I highly recommend you check him out. And that says a lot, coming from an atheist.
Brett challenged himself to write every day, and he did. And these were funny posts people, funny posts. Brett's writing is always honest, reflective, and funny.
The rest of you touched my hearts too, all of you who joined in, and even those of you who quietly dropped away - whether you are a lunch-lady, a smoking skater, a tractor driving farmer, a single mom of a boy with special needs, a mom with a big heart but low self esteem, a kind Canadian, another kind Canadian, a kind Canadian with a hole in her butt, a champion vegan, a special flower, one who faces the sun, a writer with a new pup who has endured plenty of pain you wouldn't know from her friendly demeanor and funny hats, to so many more of you - please, if there is one thing you learned from this let it be this: be nicer to yourself.
Whether it means giving yourself better habits, talking more nicely to yourself, carving out time just for yourself, releasing your frustrating, or just allowing yourself to be human, just keep going. You can get there. You can do this.
Congratulations all of you - and thank you!