I'm so grateful for all your friendship, kindness, and support. This past 8 weeks has been pretty hard for me, for reasons totally outside the challenge. And it still is. This week in particular. Thanks for caring and for putting up with me. I know better days will be ahead. They've got to be.
I originally started the challenge thinking about rust, and how things change over time, fall apart, and fade away. God knows I couldn't have foreseen what would happen. Or the loss I'm dealing with right now.
So my challenge was lighthearted - to give up cheese and beer, and with the exception of a microbrew or two in portland, I did! But on some level it was deeper too: to try to change the way I dealt with grief. I guess the universe decided to make that challenge authentic.
I am SO proud of all of you, and so grateful too. You guys honestly kicked ass, through good times and bad. It doesn't matter what's on the scale. You made new connections, you tried, you learned new habits, and you focused on the best and the beautiful in yourselves and each other and that's what I really wanted :)
Last week I challenged you to go vegan for a day, hoping that you'd try something new. I'd love to hear about your attempts if you tried. There's too much cruelty to animals in the world, so much we close our eyes to, so much we joke about and take for granted, and so much we just care not to see. For the animals, for the environment, for our personal health, a little less meat or no meat, every little bit counts.
If you're interested in that sort of thing, you might check my
Pinterest board
, or even a few good Vegan and Vegetarian "apps" they have available on how to make the transition one step at a time.
Mostly I want you to take care of yourselves, inside and out. Whether its quitting smoking, finding time for writing, or tightening your body while being a writer. Whether its struggling with crops, being a single mother, dealing with change,loneliness, an insane family, or just low self esteem. You guys are wonderful. You deserve the best. You need to be kinder to yourselves and take better care.
So now link up your final post - summarize the bad habits you gave up, and the good ones you replaced them with. What are you going to work on for the rest of the year?
Halloween is Here!
My favorite day of the year and the only holiday I like!
This week's link up and voting will begin on Friday and end this Sunday and I'll announce the winner next Monday. Good luck!
Winners & More Winners
Winners receive a free copy of our new book
All Cracked Up
, a guest post on this blog, and a special item from my Pish Posh store.
Once again I'd like to thank Angie at
Strosgirl Designs
for making our button :) Check her out.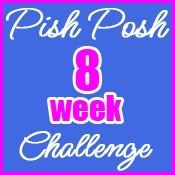 Copy and paste the code below to add my button to your blog.
Thank you all!