Starting this job for me has meant moving across the country to create a whole new world for my partner and me. It meant leaving the prairie life for life in a treehouse.
I'm really close to nature now. I am nature. Source.
My new job has also meant a new career - transitioning from a professor teaching college students to a writer advocating for animal rights.
So I was nervous to start my first day of work. A whole new life! Would they like me? Would I be good at the job? I got up on time, got ready, and made some tea. I thought to myself,
I bet I lock myself out of the house this morning and make myself late to work on my first day.
And then I locked myself out of the house.
Of course I did.
If only I had magnetic death-stare. Source.
Shoes in the car, car locked. Keys in the house, house locked. Me, barefoot, work-clothes on, windows locked. 30 minute drive ahead of me. 30 minutes until work.
So I did what anyone would do and threw a plant pot through my front door, swept up the glass, grabbed my keys and sped away. I had a nice first day, despite the glass in my feet. But Antonio was working out of town for the week. So after work, I taped up the window and went to sleep, exhausted, at 7pm, hoping no serial killers would know my door was unlocked and ready for them to jab their psycho fat arms through.
I don't want to put the lotion in the basket, thank you though.
By the way, I can't provide a picture of this because if I stand and take a picture of the house I'm just asking to be thrown in the basement and told to put the lotion in the basket.
But the serial killer house on my hill? The one that never has a car in the driveway, but always has a creepy blue light on in the dark, partly-hidden garage that looks conducive to private body-chopping time? I took my first walk up and down the hill by myself and guess what I saw? It wasn't there a few days ago. A very creepy mannequin in the window above the garage, facing out, watching the street.
It just appeared there and looks a little like this:
This is some serious Buffalo Bill shit, folks.
But I wasn't murdered in my sleep. So on my second day of work, they bought everyone vegan sandwiches and blue blo-pops which turned everyone's lips blue. As my lovely, kind, funny colleagues made me laugh at lunch while I totally derfed out and was too nervous to speak, I drank my healthy ginger-ade. I thought
this is perfect
because it's organic, it's healthy, it's perfectly appropriate. A colleague even commented on it.
Oh my god.
So I had a good five minute panic that everyone thought I was a healthy, vegan
alcoholic.
I guess it's only .5% alcohol though so as long as I don't drink five of them at work, I'll be fine. And you guys I absolutely love my job and the people I work with. Half of them bring their companion animals to work. I pet rescued labs, chihuahuas, mutts, and
bunnies
all day. It's lovely.
Coming Soon: Books, Buns, and Beer Bans
So I have some announcements!!
1) All Cracked Up
By Labor Day or thereabouts, my first edited collection should be out. I've put it together with Gloria, my trusty sidekick, and our new company, Junipaya Productions. The book is called
All Cracked Up
and a number of your favorite bloggers are featured in it, with their wacky tales. It will be available on Kindle first, and I hope you will all check it out. For now? Have a button.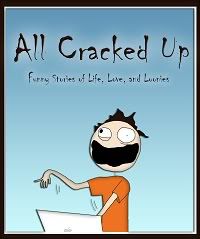 And visit our website
www.junipaya.com
for more information and add us on twitter @junipaya
2) 8 Week Challenge
I have a birthday coming up. I'm going to be closer to 40 than not closer to 40. I don't want to hit 36 and not fit in my pants. I'm serious about getting into shape now for that reason - but also to deal with the anticipated horrors of my new job, and to be strong, feel confident again - something I haven't felt in ages. So I'm going to do another
Pish Posh Get Fit! Challenge
starting Monday! I hope you will join me. It will be an 8 week link up.
3) Girl Body Pride
Please visit
Girl Body Pride
. I've completely outed myself, picture, name and all. It's the reveal. So please read my article "Dazzling Imperfections" and leave a comment!
Perhaps now you can see why I was so excited to meet a
Goat named Juniper
last week.