Spring is in the air. In the sense that it's been pissing rain all week. March showers bring April Flowers? Close enough. Anyway, if you read my post yesterday you know I have some big decisions to make, and things I need to work on. And you know, the thing about all kinds of life angst happening at once is you simply cannot punch life in the face. No matter how stabby you feel, you can't stab the universe. I'm not saying it's morally wrong. It just can't be done.
So let's do this
Get Fit! Challenge together
. First let me tell you a story. When I was 10 years old I had a crush on a boy in my class. The summer between 4th and 5th grades I was determined I would "get" him when school started again. Little did I know that one of the girls in my class would grow breasts over the summer and me, with my tomboy flat chest, glasses, perpetual shyness, and disproportional academic ability, just never stood a chance.
So I decided the way to "get" him was to be really strong. Everything I did, every chore, I'd tell myself, this will make me cuter. I remember pumping up a raft for our camping trip, with one of those air compressors you had to manually pump with your foot. The whole time I was dreamily telling myself, this is for Brian. Yea that worked out not at all. Silly Pishy.
Do we over estimate the power of positive thinking? Maybe negative thinking is harmful too but not everything can be changed with optimism, and sometimes our need for optimism allows us to be deaf to some serious problems. So this message doesn't really work for me, but maybe it works for you:
Yay! As my cousin said, so basically this image is encouraging us to TEEWSBWRB?
PERSONAL
When I feel like the whole world has gone screwy, I get a little self-absorbed. I think the best way to fight the blues is to think about other people, people you care about. I know sometimes you feel like all you ever do is care about other people and you need to care for yourself too. Sometimes in doing that you are still focused on
you,
building up resentment at how you are treated, or the things you have to deal with, and the deep hidden stresses and sadness you feel. When you really listen to others, hear what they are going through, and do something to help them, it's a win for the team.
The other thing I do is laugh. Sometimes it seems impossible. You gotta nip that in the bud quick. Find a way to laugh. I like to watch Louis C.K., wrestle with my cats, or do things to make other people laugh. That's always been the way I cheer myself up. That and drink beer. But seriously, walk away from people who make you feel down, and walk towards people who make you laugh. Hug your kids more. And remember! Like the
Zombie Apocalypse, this too shall pass.
Since my response to cheery optimism is generally
OH PISH POSH!
I made a better poster for you all:
What this spells is better than TEEWSBWRB don't you think?
GOALS
I was reading a lot of posts about spring yesterday and noticed so many people seem settled, with homes, family, and gardens. I'm not sure why I don't have those things, I suppose it's been my career. All I know is that I want them. Right now having daffodils coming up in a garden I planted seems far more important to me than my career. Being able to take my mom to her appointments, having dinner with my dad, sitting on the couch with my siblings, hugging my nephew - all these seem more important to me than anything. But having a garden and a decent kitchen are important too.
Alternate slogans include the following, depending upon your mood:
C
hoose Happiness!
F
ight Hard
L
augh More!
U
nderwear Required
A

ssess the Problem!

(or) C

ome at me Bro
W
orry Less!
K
ick Bullies
S
tay Healthy!
Y
our Mama
(CLAWS for when you need to cut a beezy)
O
h It's Like That?
U
h huh
PROFESSIONAL
One of my accomplishments was just admitting some things I've felt unable to say. I asked for help, and that's hard for me. So
yesterday I confessed some things to you
. Your response meant a great deal to me. I was surprised by how many people have been feeling lost too, and I appreciated hearing stories about how you fought hard and made huge life changes.
I want to be home.
I want to feel rooted.
What is keeping us from being where we want to be
? Tough decisions? Sacrifice? Fear?
Come to terms with a decision, and put that forward
Accept that I have to make some sort of change
Accept that happiness may mean a complete revision of how I see life, and myself
WRITING
What are your writing goals? Why do you write? Maybe your goal is to stop obsessing about your blog-stats. Or maybe your goal is to share something with readers you are nervous to share. Or perhaps you'd like to finish your novel?
Writing makes me happy. For so long I put it to the side because other things
needed
to be done and writing was just something I
wanted
to do. Well, people,
sometimes you need to do what you
want.
Writing is part of who I am, somehow, and I feel awful when I don't do it, and great when I do. So this blog has really been a way of allowing me to write and I am SO grateful to all of you who stop by and leave comments, even when you're busy.
So these are my goals, and yours may be totally different and I'd love to hear yours!
I'm going to select one online writing source and submit something once a month.
I am going to start re-reading The Artist's Way an incredible book I recommend.
I will keep writing this blog even when I'm tired but I'll do it better, be funnier.
I will work on the cookbook with my brother and put together a proposal a little.
FITNESS
I've begun working out more, and I'm at least looking forward to working out rather than wanting to become a part of the couch permanently and have people crane-lift me out.
Boink! That's all I'm gonna say. She is boink-able.
Go at your own pace!
You may be at different fitness levels than me, but I am out of shape. I know this is intense and
you don't have to do it with me.
But I want to do this intensity because of my high stress level right now. I am determined to make a three week commitment to myself, not even for the physical reasons but because I know it will make me stronger emotionally. *So pick whatever you feel comfortable with,
set small goals,
and get them done.*
More Reasonable Options
Again, remember this is just what I want to do. You don't have to do this at all. Whatever you do is fine, as long as you get up off the couch. A more reasonable plan for you might be:
Get more sleep
Drink more water
Make 1 meal a day more healthy
Eat more often but in smaller portions
Add more fruits, vegetables and less crap
Walk 30-40 minutes a day 3 days a week
Add some weight activities 2 days a week
Do something fun but active 1 day a week
Whatever you do, try to do an activity a few times a week in which you build up a sweat. I want you to get to that point where your adrenaline flows and the good feelings come out. Hello happy chemicals.
Always bend your knees slightly, but not further than your toes. Always stretch gently before and after a workout. And always stop when things hurt. Alternate "leg" days and "arm" days.
Weights
Even though I haven't
lost
any weight yet (
thank you Nola
) I have gained the ability to increase weights and feel more comfortable. On some machines and definitely in free-weights, the weights I have been using feel lighter now. That is wonderful to me because I don't feel quite so weak.
Here's the thing. If you have hit an exercise plateau, you should consider increasing weights. Weight resistance activities burn more calories than cardio alone. If you have been doing just cardio, you may find adding weight slightly annoying at first, but you will see results quickly. The first results will be sore muscles. The second will be added strength. The third result: noticeable muscle tone. I use 10lb dumbbells to do arm lifts and I've been adding 2lbs to that. I've been doing 20-30lbs on arm machine. Less weight, more repetitions will add lean muscle, no bulk.
My 21 Day Plan
(you do not have to do this).
I am going to reduce my alcohol. Let's not get crazy, am I right Gia?
Don't eat after 7. Yes that's food. Yes, that too. Put it down.
Reduce Cheese Intake Dramatically for 21 days. This is going to suck. Period.
No processed foods. Nein. Nicht. Nada.
Mustard instead of mayo where necessary. Why would mayo be necessary? Sandwiches.
Use pitas or wraps instead of bread. Wait til I show you my new recipes.
Drink 8 glasses of water per day. Not per week dumb-ass.Add lemon/lemon juice.
Get 7-8 hours of sleep. Each day, not total. That would be silly.

Exercise 60 minutes a day, every day, for 3 weeks:


Walk for 30 minutes every day 3 days a week. I'd do it longer but: agoraphobia.
Do elliptical machine 30 minutes 3-5 times a week. Increase the resistance.
Do weights 20 minutes 3 times a week until lightly sore. Do it seriously, not chattily.
Do freestyle 30 minutes a week 3 times a week. Don't wuss out. This sucks.
Weighted hula hoop 15 minutes a week 3 times a week. Abs, yo.
Stretch 5-10 minutes a day. Between a long period of sitting.
1 situp one day, 2 sit ups the next day. And so forth. Pathetic, but I can't do any
Shake Your Booty
For those of you with little time to go to the gym, a
weighted-hula hoop
in bright rainbow colors will not only help you exercise while watching the tele, but will make you feel like Rainbow Bright.
This will hurt the first time, but make noticeable improvements immediately.
My neighbor and I each had one of these in grad-school. She lived across the street and she would do hers in her front yard while I did mine in my front yard. 2 grown women on either side of a street doing rainbow hula hoops is certainly unexpected.
Oh to be in my twenties again, when I didn't give a crap what other people thought.
Anyway, this works your abs, hips, and booty. You can get them on eBay, Walmart, or Target. You can do it while watching the telly.
For those of you who are a little more advanced, doing all kinds of crazy sprints, marathons, dancing, and plyometrics and whatnot, first of all fuck-
off
, (just kidding!) and second of all congratulations. I used to play soccer and when I was in that kind of shape I did plyometrics. We will do those Week 4.
Freestyle
So what I call "freestyle" means anything from
Ultimate Burpees
(which there is no way in hell I am doing) to squats to lunges to dancing around in your underwear. Put some music on and go crazy.
The world seems different when you aren't wearing any pants.
Other suggestions:
For thighs and butt, do walking lunges. Seriously. 15x
For inner and outer thighs, dance and squat using weights. 20 mins or 20 squats
For calves, stand on tiptoes and lower your body up and down, on a step. 50x
For arm flab, swim 5-10 laps, do dumbbells or pushups 10 reps each, 3 times
For abs, do 50 leg lifts in the mirror, knees up to chest, or crunches.

Finally - take your spouse out, dress up in something you feel good in, and laugh.
Just get moving. This was an off week for me, so I'll have better tips and better success next week.
RECIPES
The most amazing, healthy recipes at
The Lunchbox Bunch
. For example, the Shamrock Breakfast Sandwich with Pepitas, Avocado, and Jalapeno...
Check out healthy recipes and fitness plans, as well as sources for these images on my
Pinterest
page and The Lunchbox Bunch, my new favorite site.
You may be more of a
beer-drinking, meat-eating
kind of person. So for you maybe it is just use leaner meat once or twice a week, like chicken or fish, or smaller portions with more vegetables. Or maybe you're a
wine-drinking, popcorn-eating
kind of person. Why not cut out two days a week? Replace popcorn with grapes. Or drink smaller glasses of wine.
MOTIVATION
Finally... What motivates you?
So many of you have been through courageous battles, and battles where you had to be courageous because you had no damn choice, and so many of you have made major life changes and fought against the odds. How did you do it?
My dad fought through a stressful period in his life, losing 20lbs in 3 months, by eating more salads, drinking less wine, and walking the dog for 30-40 minutes 5 days a week. You can do it too.
When I was my former self, I did martial arts. I remember my coach telling me a story about a black-belt in hapkido and tae kwon do. Dude had no arms. Zero arms. One arm would be hard enough. This guy had zilch. So how the
sam's hell
did he win fights? He was the Black Knight of martial arts. His legs and his defenses were that strong, and that quick.
Another guy my coach told me about was a world-renowned martial arts instructor and black-belt in karate and jujitsu. I've seen people breaking bricks, but fighting blind? That's some Hollywood shit right?
Not so much.
Robert J Ott got shot in the head. And
then
did this stuff.
Our physical and emotional health are aligned. My lack of physical health reflects an emotional deterioration
that I think you are all aware of by now.
In other words,
nervous breakdown does not look or feel good on anyone:
Oh hi, what's that shade of nail polish? Emotional collapse
Cool, cool. So you look good in that color, what is it? Mental exhaustion
Oh I like it. What about that outfit, what is it called? Disillusionment
Great. Do you know if it's on sale? Yes, at the Professional Burnout store
Awesome! Where's that? Between Anger and Depression on Frustration Street
So really now, what have we learned?
BACKSTABBING BEEZIES and BULLYING BUTTHEADS
I was going to include a post about backstabbing and bullying at work, but I'm going to leave that to the weekend. Saturday I'll make you a new sandwich, and Sunday, right as you're dreading going back to work, I'll write about things you can do to feel better about work stress.
LINK-UP
From Thursday to Sunday every week you can write a post on your own blog and post a link to it here. Please
visit the other posts
and support each other. My friends are awesome, so you'll be making new friends, drawing attention to your blog, as well as getting your shit together. Remember, you don't have to do physical fitness - it can be anything you've been meaning to do to get your butt in gear.
Grab Some Button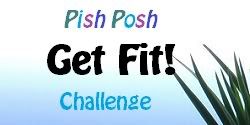 Good luck everyone!! Get Fit!